If you, like me, appreciate clean and simple layouts then the Firefox title bar is annoyance. Firefox's title bar wastes space, adding unneeded clutter. I have a dislike for that sort of stuff. If you too happen to dislike it as much as I do, this article will tell you how to remove the title bar from Firefox.
If this site's aesthetics doesn't make it obvious, I really like my layouts to be simple. I don't like wasted space that doesn't give me information that I need. That's one of the reasons I use Linux – I can make the OS get out of my way and get my work done. If I had the skills, I'd make this site 'responsive' so that it filled wider screens better – just to avoid that wasted space.
I admit, it's pretty picky and maybe a bit over the top, but I really do like the entire screen to have information I need on it. Other than a few applications, everything I do is in full screen. I sometimes don't even bother with a desktop background – because I never see the desktop.
I believe the more technical term would be that I like an 'information dense' working environment. It's not for everyone, but it works for me. For example, as I write this, I have 92 tabs open. See:

See? I wasn't kidding. That's a bit more than normal, but not much. It's what I do. Firefox isn't usually among my open apps, actually. Oh well…
I also have multiple browsers open. Yeah, I have a problem… (My other main browser has ~60 tabs open.)
Remove The Firefox Titlebar:
So, what am I talking about? How can you fix this in Firefox? Well, a picture is worth 1,000 words… 

It's actually easy to get rid of, if you know where to look. So, this won't be a taxing article – it's an article that anyone can follow!
Firefox needs to be open, of course. Once open, look in the upper-left. You'll see three vertical dots and those open the menu for customization. Click that and then click on "Customize". Then, simply scroll down and untick the box for Title Bar.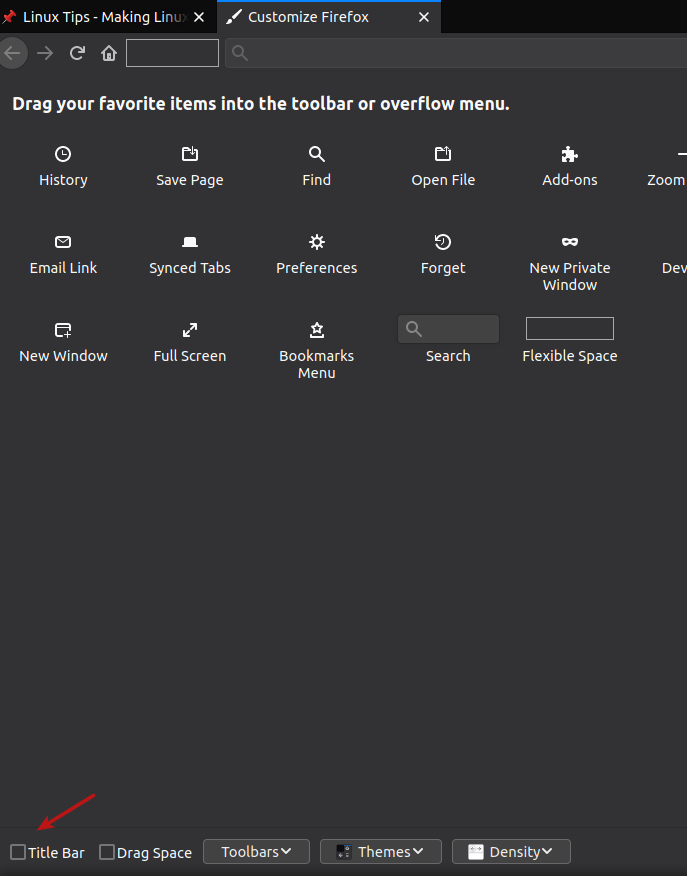 You don't even have to restart the browser. It really is that easy to get rid of this annoyance. While you're there, you can also customize a few other visual elements, so you might as well do that while you're there. That and a theme and you've made your Firefox browser into your own.
Closure:
And there you have it, a nice and simple article that tells you how to remove the title bar from Firefox. It's not dreadfully difficult, but it is an article! Maybe I should do one for Chrome/Chromium? That'd be another simple article that might be useful for people looking to maximize their screen's real estate.
Thanks for reading! If you want to help, or if the site has helped you, you can donate, register to help, write an article, or buy inexpensive hosting to start your own site. If you scroll down, you can sign up for the newsletter, vote for the article, and comment.