Today, I'm going to review the Dooble browser, so that you don't have to. The Dooble browser is a browser that has no dependencies as long as your system has fits 'latest Qt is supported' requirement. It bills itself as:
Dooble is the scientific browser.
Many folks are aware that I'm a sucker for a new browser. I install browsers that interest me, even though I have no plans to use them as my regular browser. I install browsers just to see what's going on in the browser world. Changing my browser isn't actually something I plan on doing!
So, I first read about Dooble browser when I was browsing Reddit. It was some video that I didn't watch, 'cause I don't tend click many video links. Seeing a browser name that I didn't recognize sent me immediately to a search engine, where I found what was once their home page. That, sadly, wasn't the project's page anymore. It sent me here.
Technically, the link I clicked sent me straight to the release page where I found it packaged as a .deb file. Being who I am, I immediately downloaded it – with some glee, as it had been a little while since I played with a new browser. It said it was a scientific browser and I'm a mathematician, so I was pretty sure that the browser and I would get along famously.
I was wrong. Oh, was I wrong.
Installing Dooble Browser:
As mentioned, from the releases page, I found the .deb packaged for my Lubuntu system. It downloaded well enough, but the first thing I noticed was this:
1

2

3

4

5

6

7

8

9

10

11

12

13

14

15

16

17

18

19

sudo

apt

install

.

/

Dooble

-

2021.08.05_amd64.deb

Reading

package

lists

.

.

.

Done

Reading

state

information

.

.

.

Done

Note

,

selecting

'dooble'

instead

of

'./Dooble-2021.08.05_amd64.deb'

The

following

NEW

packages

will

be

installed

:

0

upgraded

,

1

newly

installed

,

0

to

remove

and

0

not

upgraded

.

Need

to

get

0

B

/

97.4

MB

of

archives

.

After

this

operation

,

0

B

of

additional

disk

space

will

be

used

.

Get

:

1

/

home

/

kgiii

/

Downloads

/

Dooble

-

2021.08.05_amd64.deb

dooble

amd64

2021.08.05

[

97.4

MB

]

Selecting

previously

unselected

package

dooble

.

(

Reading

database

.

.

.

476858

files

and

directories

currently

installed

.

)

Preparing

to

unpack

.

.

.

/

Dooble

-

2021.08.05_amd64.deb

.

.

.

Unpacking

dooble

(

2021.08.05

)

.

.

.

Setting

up

dooble

(

2021.08.05

)

.

.

.

Processing

triggers

for

mime

-

support

(

3.64ubuntu1

)

.

.

.

Processing

triggers

for

gnome

-

menus

(

3.36.0

-

1ubuntu1

)

.

.

.

Processing

triggers

for

desktop

-

file

-

utils

(

0.24

-

1ubuntu3

)

.

.

.
Yes, yes that's verbatim. I just copied and pasted the output. No, I have no idea why it started off with the selection process like that. I also have no idea why it'd go on to 'getting' files. The files were already there. The good news is that it did install and that it was immediately available in the application menu under the Internet heading.
Using Dooble Browser:
So, I opened up Dooble browser and was greeted with what looked like a fairly regular browser. I typed in the address for this site and the site opened, complete with ads.
Curious, I looked for a way to add extensions and found none – more on this later. So, I typed 'Dooble browser ad block' into the address bar and pressed the enter button.
Nothing happened.
At this point, I opened a few more sites and decided to open the settings menu. There are like 4 first-level tier buttons that will take you to your browser history… In the settings menu, I found search engines. None of them worked for searching from the address bar. Right clicking on text? Nope… There's no active 'search' feature there.
I found an option to enable 'web plugins'. This did not enable anything noticable.
I decided to check out the 'science' aspect – which is just some sort of mystery graph. To do this, I clicked on 'Charts'. It helpfully looks like this: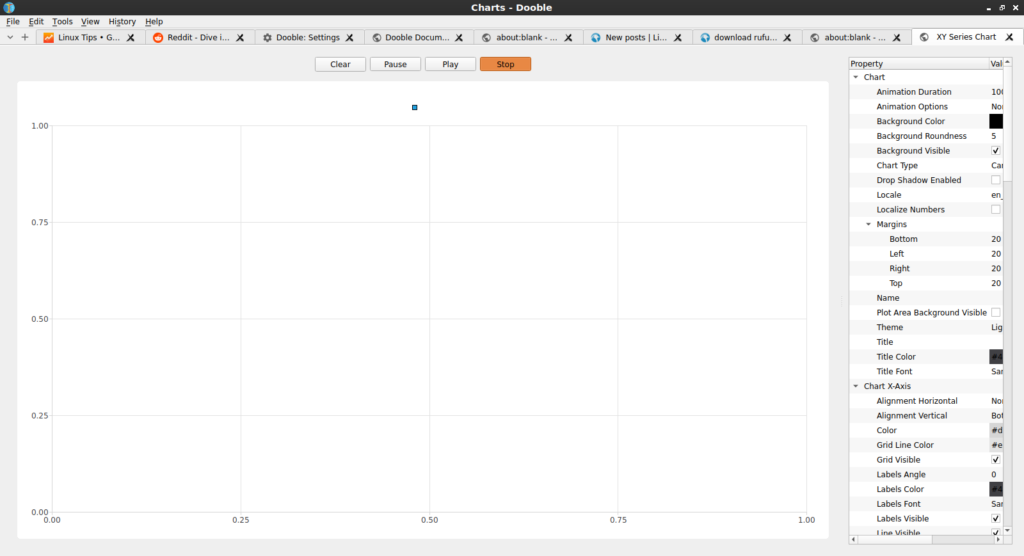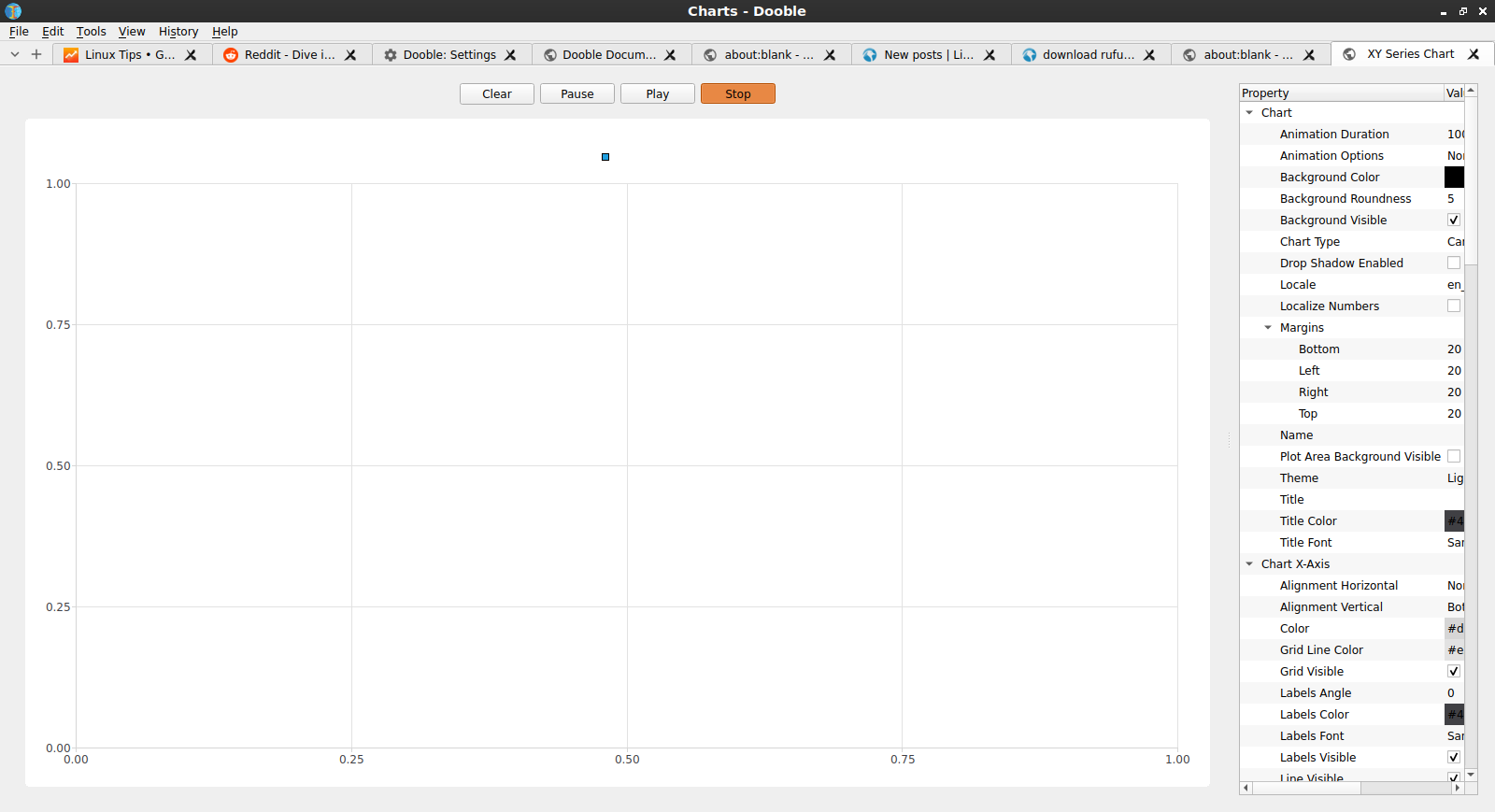 I have no idea what they're plotting on the chart. Pressing the buttons didn't make it clear. I thought about investing some more time, but I don't like throwing good time after bad.
In my effort to block ads, or at least to see if you could, I played with a feature that let me accept and block domains. I told it to only accept linux-tips.us, and refreshed. It still happily showed me ads from Google. Speaking of which, it'd be pretty sweet if you'd unblock ads on linux-tips.us!
Reviewing Dooble Browser:
Well, it does have an option for a floating clock and floating history. Oh, wait, there's a 5th way to access history as a top-level option. They sure want you to be able to view your history.
I have no idea why it has 'search engines', because there's no right click search menu and searching from the browser's address bar does this:


Whatever it's charting, I can't tell. Usually an X and Y axis actually have labels. Without those, I can't really tell what is going on. Is it me that's making the mistakes? Once more, I can't even tell!
Does it function as a browser? Well… You can technically browse sites. I browsed a number of them before giving up and noticed not one single rendering problem – which is a plus. I was able to login – but my username and password wasn't remembered, meaning I couldn't automatically log back in. 
One of the things I noticed was that the 'cache size' never increased – regardless of how much browsing was done. On the plus side, I told it to not allow Reddit to send push notifications and it appears to have remembered that.
So, on a scale of 1 to 10, I'm gonna give Dooble browser a solid 3.5. It stayed up and running, with no crashes. It didn't require any dependencies, and installed cleanly. Technically, it does browse websites. The Gopher support amused me, though I didn't bother testing it.
I find it laughable in its lack of functionality. That it has search features and then doesn't let you search is amusing. I just can't give it less than 3.5. I'm sure tons of hours are going into it, and I'll assume that it's going to improve. I'll keep checking in on it. If you're a developer and would like to offer some sort of rebuttal, I'm all ears. 
Closure:
Well… That's a review. I don't think I can recommend the Dooble browser to anyone at this time. They have lofty goals but are failing to meet them. When it becomes a usable browser, I'll try to let people know. I'll check in on it from time to time, even if just to get a chuckle from how laughably bad it is.
Thanks for reading! If you want to help, or if the site has helped you, you can donate, register to help, write an article, or buy inexpensive hosting to start your own site. If you scroll down, you can sign up for the newsletter, vote for the article, and comment.